Large order for Yadon Schuler subsidiary supplies a total of 17 presses of various types to household appliance manufacturers in Uzbekistan

Reliable Metalforming Equipment Service Provider
Large order for Yadon Schuler subsidiary supplies a total of 17 presses of various types to household appliance manufacturers in Uzbekistan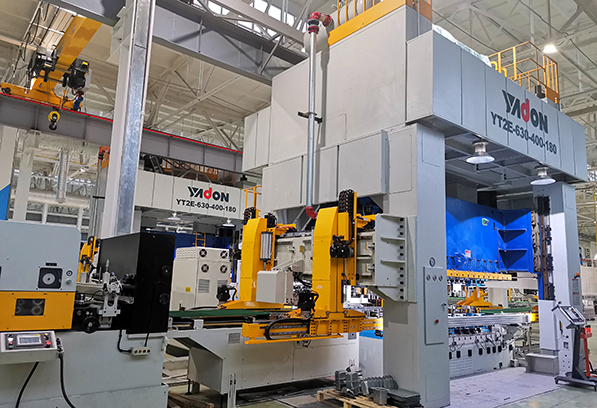 Göppingen, 23 June – Schuler's Chinese subsidiary Yadon has received a major order from a Central Asian household appliance manufacturer. The order placed by the customer from Uzbekistan comprises a total of 17 C-frame, monoblock, tie-rod and high-speed presses for the production of heat exchanger plates for air conditioning systems as well as parts for washing machines, refrigerators, gas cookers and gas counters. Yadon delivered the first two 630 ton presses in less than four months after receipt of the order.

"Presses from each of our three product groups are represented in the order," reports Liang Cheng, Chief Strategy Officer at Yadon. "We have established a very good business relationship with the customer over the past years. This positive experience prompted him to give us this major order. In addition, we offer a much wider range of products at Yadon than many other competitors in China."

Because Uzbekistan is difficult to reach by sea from Yadon's headquarters in Yangzhou in eastern China, the two machines were transported to the customer by heavy goods vehicles overland. The Schuler subsidiary also achieved record speeds in the commissioning of presses and automation: After just four weeks, production could start.
Captions
Bild1.jpg: Yadon delivered the first two 630-ton systems in less than four months after receiving the order. © Schuler
Bild2.jpg: After just four weeks, the commissioning of presses and automation was completed. © Schuler
About the Schuler Group
– www.schulergroup.com
Schuler offers customized cutting-edge technology in all areas of forming—from the networked press to press shop planning. In addition to presses, our products include automation and software solutions, dies, process know-how and service for the entire metalworking industry. Our customers include automobile manufacturers and automotive suppliers, as well as companies in the forging, household appliance and electrical engineering industries. Presses from the Schuler Group mint coins for more than 180 countries. When it comes to the digital transformation of forming technology, we support our customers worldwide as a supplier of innovative system solutions. In the 2019 fiscal year, Schuler generated sales of € 1.136 billion. Founded in 1839 at our headquarters in Göppingen, Germany, Schuler AG has approx. 6,000 employees at production sites in Europe, China and the Americas, as well as service companies in more than 40 countries. The company is majority-owned by the Austrian ANDRITZ Group.